With the Malibu WWA Rider Experience, riders come out for more than just the two passes they get at a typical wakeboard contest, they come for the full experience. Back for 2014 and better than ever, the Malibu WWA Rider Experience starts on Friday, with Freeride Friday.
Freeride Friday is the perfect warm up for the weekend ahead at a Malibu WWA Rider Experience stop. The freeride sessions are focused on the riders getting a chance to practice behind the towboat the day before the WWA Regional Championships. However, Freeride Friday is open to anyone, whether it's your 1st time or just looking for a solid pull and great coaching from top pro wakeboarders. Each rider will get at least a couple passes down the lake to practice their run or just have some fun and "freeride".
Tarah Mikacich teaches a 1st time rider how to get up at Freeride Friday.
Malibu Boats pro team athletes will be on hand at each of the events to offer tips and encouragement to each of the riders that come out. All attendees will get the opportunity to hangout with the Malibu Pro Team throughout the day.
There are four opportunities to get involved at a Malibu WWA Rider Experience this summer. Once again, it's open to any and all ages. Get signed up for your experience today!
Click here for registration!!!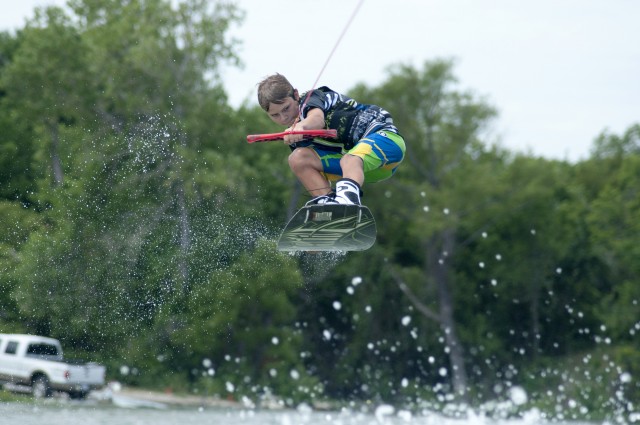 Tyler Sommer pokes out a tail grab at Freeride Friday at the Central stop in 2013.
South
June 13-15, 2014
Host: Singleton Marine Group
Location: Atlanta Ski Club
3833 Princeton Pkwy SW
Atlanta, GA 30331
West
June 20-22, 2014
Host: Larson Marine
Location: Mossdale Quarry Lakes
660 Mossdale Rd
Lathrop, CA 95330
Central
June 27-29, 2014
Host & Location: TSR
6700 IH 35 North
New Braunfels, TX 78130
East
July 11-13, 2014
Host: Munson Ski & Marine
Location: Pleasant Prairie RecPlex
9900 Terwall Terrace
Pleasant Prairie, WI 53158
For additional information visit WWARiderExperience.com
Contact:
Rob Corum
Rob@thewwa.com
About Malibu Boats
Malibu Boats (NASDAQ: MBUU) is the world's largest manufacturer of watersports towboats. Malibu markets the RESPONSE, WAKESETTER, and RIDE models, as well as the Axis Wake Research brand, through a worldwide dealer network. With some 450 employees and manufacturing facilities in California, Tennessee, and Australia, Malibu builds boats to help you live a #LifeWithoutLimits. For more, visit MalibuBoats.com.
About the WWA
The World Wakeboard Association is the global leader in wake sports sanctioning. The WWA owns and operates the WWA Wakeboard World Series, WWA Wake Park World Series, WWA Wakeboard National Championships, WWA Wake Park National Championships, WWA Wakeboard World Championships, WWA Wake Park World Championships, WWA Wake Park Triple Crown, WWA Pro Card and WWA Rider Experience. With 27 affiliate countries worldwide, the WWA is a rider-formed organization dedicated to promoting and growing wake sports worldwide. It is the leading source for riders, event organizers and competitive standards. For more information on the WWA and its events, check out www.thewwa.com